7 Tips for Decorating a Guest Bedroom
How to create a beautiful, modern guest bedroom even if you only have a small bedroom to work with.
Let's face it. Not many guests are coming to people's houses right now.
You know what that means? It's time to completely redo your guest bedroom! It means you have ample time to make a gigantic mess in there while you create gorgeous modern accent walls, put new sheets on the bed and add beautiful budget-friendly decor.
Here are 7 tips that will help you create a guest bedroom that is welcoming and functional for guests.
This post contains affiliate links which means I may get a small commission off any purchases made from my links. It's no extra cost to you.
1. Place a basket with extra blankets in it in the corner
A common problem that guests have at other people's homes is being too hot or too cold. Everyone prefers a different sleeping temperature.
Plus, most people don't try out their guest bedrooms ahead of time to determine if they are much colder or hotter than the rest of the house.
To account for the potential that your guests could get cold at night, simply place some extra blankets in the room. Putting them in a cute basket is an easy way to add them to the room in a pretty way. I use this cute basket from Timeyard. Timeyard has a lot of really cute baskets that vary in shape, size and texture. They are really budget-friendly as well!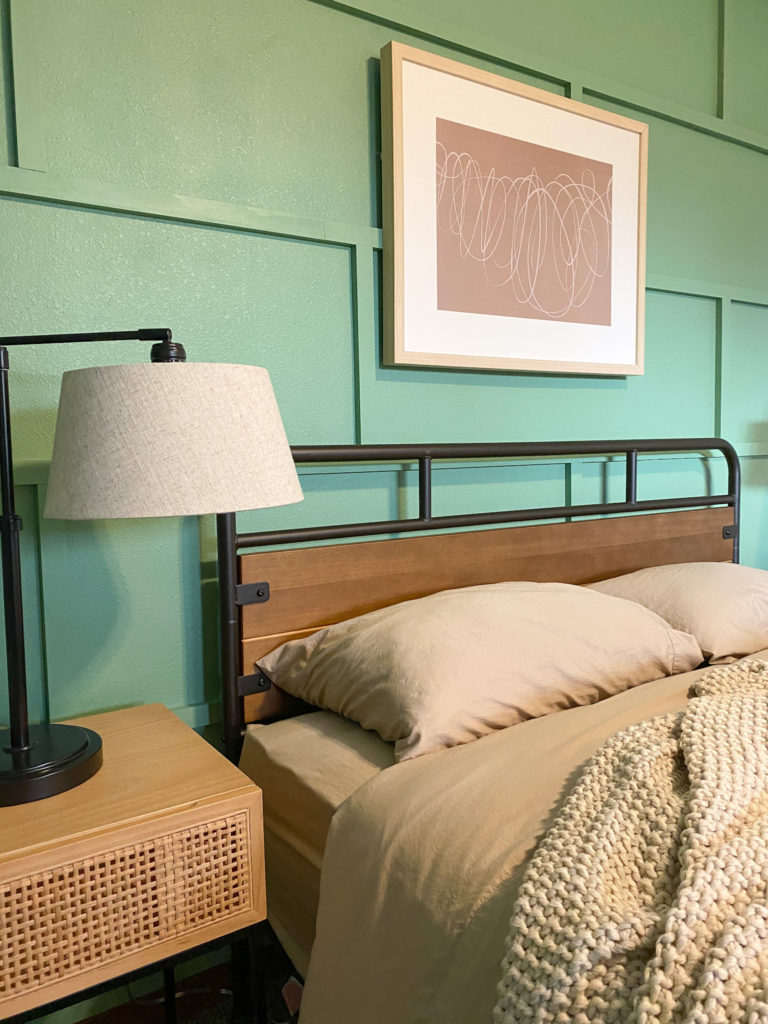 2. Prioritize comfortable bedding
In the past I always put the random, really old blankets and sheets on our guest bed. I figured that they get the least amount of use so it made sense.
Recently I've changed my mind. I started prioritizing this bedding. It's just a sweet way for me to show them that I care about their comfort while they are here.
My mom recently spent the night and in the morning she told me that my Boll & Branch sheets were "buttery soft!" She said that she woke up a few times during the night and then just fell right back to sleep because the sheets were so very soft around her. That's what I want people to feel like at my home – comfortable, cozy, happy, loved.
3. Add a fun element to the room such as a modern accent wall
Everyone loves an interesting, custom room. I recently created this modern accent wall to make a statement in our guest bedroom.
It was very simple to make. I located the studs in the wall and then attached 1×2 pine boards to the wall with a nail gun. I used caulk and wood filler to fill in any of the seams. I then painted it green for an extra punch of color in this room. Head here to see the Instagram story highlight that shows you all the details!
4. Provide your wifi password (if you are comfortable with this)
Everyone has a different approach to internet security but if you are comfortable with it, provide your wifi details to your guest in their bedroom. This way they won't have to ask you for the password, which guests often won't do if that conversation makes them feel awkward.
You could create a small framed sign to display the password.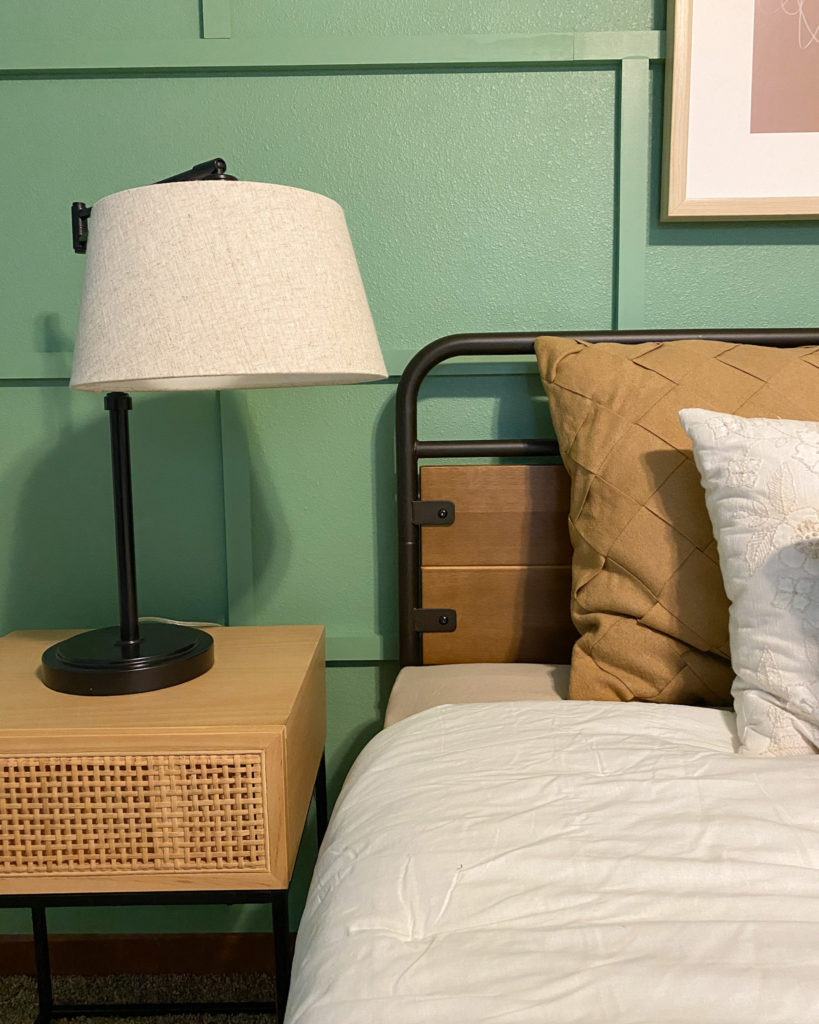 5. Keep the decor and furniture simple
Leave empty space in the room. Your guests will likely have suitcases and other items to store in this room. If you are able to, leave some empty space in the room so that they don't feel cramped.
Keep the decor simple. Avoid having large collections in this room or using this room to store random bins and boxes (I'm definitely guilty of this one!).
I have minimal decor and for furniture, I simply have a Zinus bed, Target modern woven nightstands, Target lamps and a Studio McGee Scribble Art piece from Target.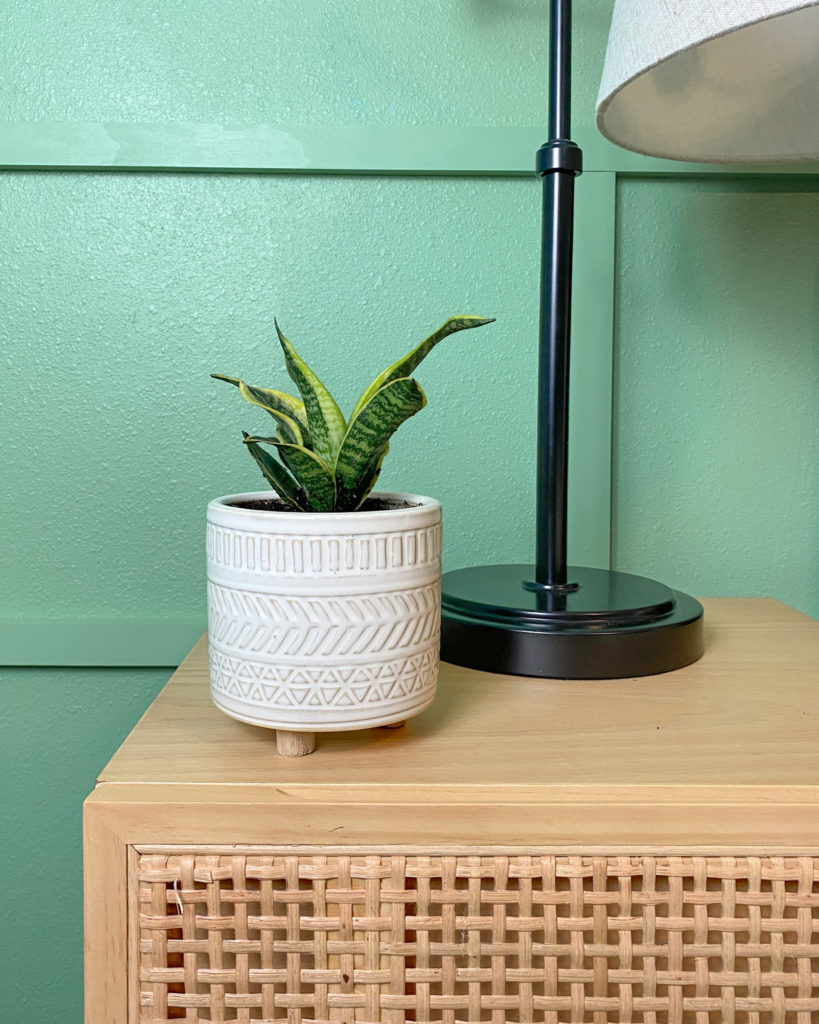 6. Add some life to the room with plants
As long as you remember to water and care for the plants, plants can add some life to your guest bedroom. This cute pot is from Hobby Lobby, which has a wide variety of really cute pots!
Oftentimes guest bedrooms are on the lower level of a home, or even in a basement, with little natural light. If that's the case, find plants that require little sunlight or use faux plants. Either way, plants add some color and life to a space that might otherwise feel a bit stale and unused.
7. The most important part isn't the fancy room but YOU
Do you need a fancy, perfect room to host guests? Of course not! They can sleep on your couch or on your living room floor on an air mattress. True story: I've slept on an air mattress in a kitchen next to a running dishwasher. It was hilarious. But you know what? I loved every minute of being there with people that I loved.
Looking for other modern decor items for your home? Head here to learn how to make budget-friendly wall decor and a beautiful console table!
Stay in the know on all my new projects, home updates and decor finds by signing up for emails here.