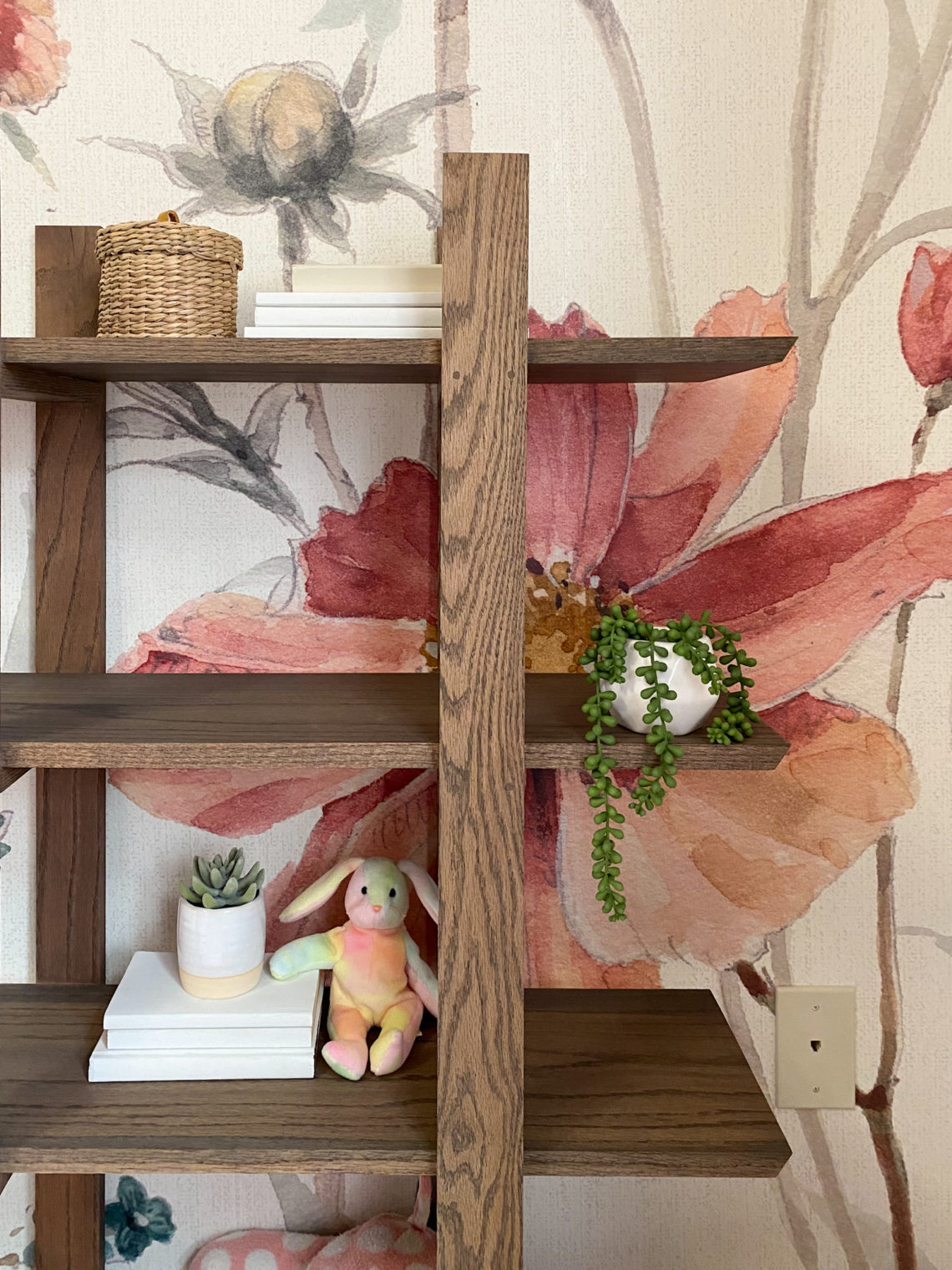 The 2023 Minwax Color of the Year: Aged Barrel!
Minwax's 2023 Color of the Year is a gorgeous rustic brown color, Aged Barrel. It has a gray undertone and brings warmth and depth to pieces.
I decided to use this stain color on a modern bookshelf for my daughter's room. My daughter's room is very white and bright. It has bold floral wallpaper in it. I was excited to bring some depth and contrast to her room with this darker stain color.
This bookshelf is quite easy to make – it's really just creating two ladders and placing boards across them.
Thanks to Minwax for sponsoring this post. I received compensation from Minwax but all opinions stated here are my own. I've used and loved Minwax products for years!
Let's dive into the tutorial!
Time to Complete
2 days, with about 8 hours of work across the 2 days
Tools & Materials
Minwax Wood Finish Penetrating Stain in Aged Barrel
220 Grit Sandpaper
Tack Cloth
Rags
4 1″×10″ 3′ Oak Boards
4 1″×3″ 4′ Oak Boards
1 1″×3″ 8′ Oak Board
Miter Saw
Pencil
Tape Measure
Drill
Random Orbital Sander
1 1/2″ Trim Screws (small heads on them)
Oak dowels the size of the screw heads
Click HERE to find a local retailer for Minwax products!
Minwax 2023 Color of the Year: Modern Bookshelf Tutorial
STEP 1: Cut boards to size using a miter saw
Cut each 1″x10″ board to be 34″ long, cut at a 33 degree angle at each end. Cut the angles so that they both angle inward.
Next cut the 8′ 1″x3″ board into ten 9 1/4″ long pieces cut at 90 degrees on each end.
The remaining four 1″x3″ boards do not need to be cut; they are already the right length at 4′ long.
STEP 2: Assemble two ladders using the 1″x3″ boards.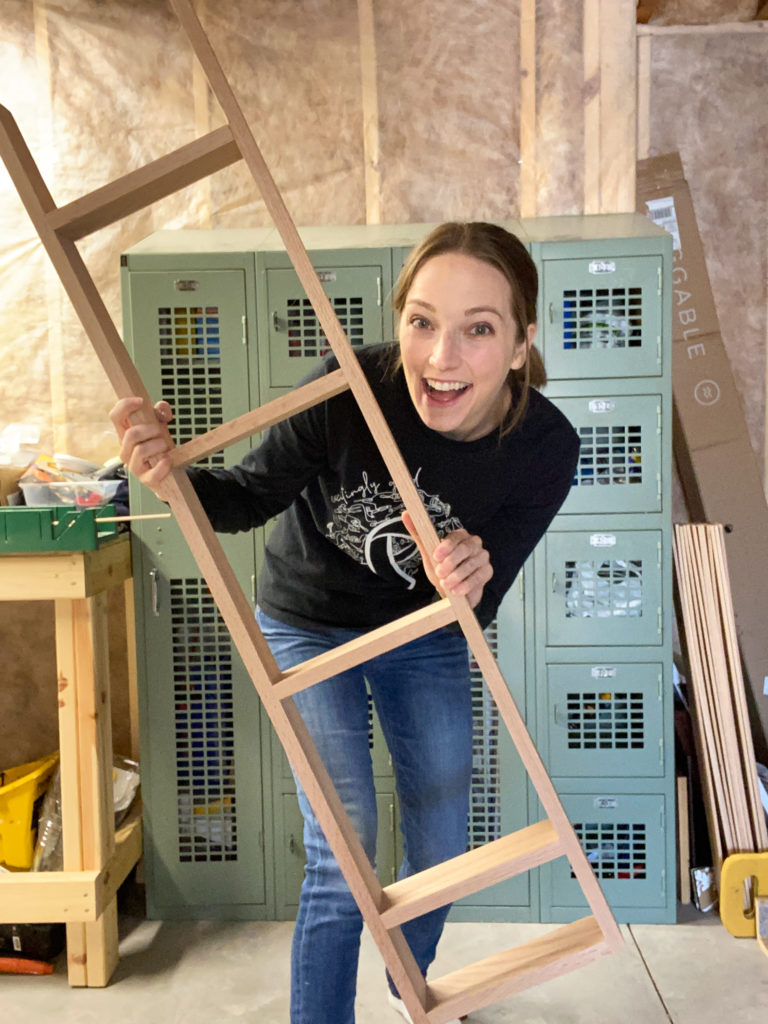 The easiest way to think about this step is building two ladders, even though they won't be used in this way.
First lay out the wood boards so that the 4′ 1″x3″ boards are the sides of the ladder. The 9 1/4″ long 1″x3″ boards will be the rungs.
Glue and screw the rungs into the sides using trim screws.
The first rung should be on the very bottom of the ladder for stability.
The second rung should be 5 1/4″ from the first rung.
The remaining three rungs should be 11 1/2″ apart.
Create two ladders, ensuring that the rungs are spaced exactly the same on each one. Use a level if necessary to ensure they are exactly the same.
STEP 3: Place the 1″x10″ boards across the ladder rungs, gluing them down to the rungs.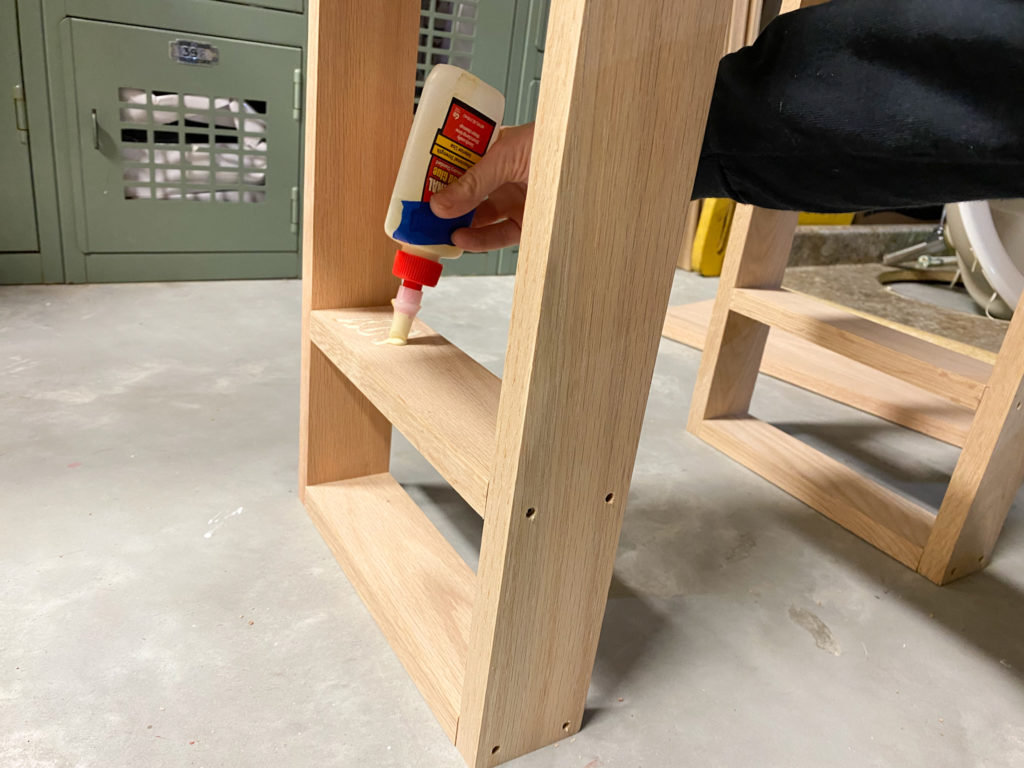 You can also nail them down with a nail gun if you'd like to. Mine were secure enough with just glue.
STEP 4: Fill screw holes with small oak dowels. Sand down dowels until the surface is smooth.
I cut small pieces off a wood dowel to create plugs that I placed in each screw hole. My dowel was the exact size of the screw holes. I simply tapped them in with a mallet.
Then I used a sander to create a smooth surface.
STEP 5: Sand down all remaining boards with 220 grit sandpaper to prep them for stain.
Remove sanding dust with a tack cloth.
STEP 6: Apply Minwax Pre-Stain Wood Conditioner for Oil-Based Stains with a rag.
Whenever you stain wood, you want to follow a 3-step staining process using pre-stain wood conditioner, stain, and then a protective topcoat such as polycrylic.
Pre-stain wood conditioner is important because it helps the stain absorb into the wood evenly. It helps prevent blotchiness.
Simply wipe it on with a rag and after 5-15 minutes, wipe off any excess using a clean rag.
STEP 7: Within 2 hours of applying the pre-stain wood conditioner, apply Minwax Wood Finish Penetrating Stain in Aged Barrel.
This is the fun part where you get to see the beautiful Minwax 2023 Color of the Year come to life! As you can see in the picture, it's a warm brown with a strong gray undertone.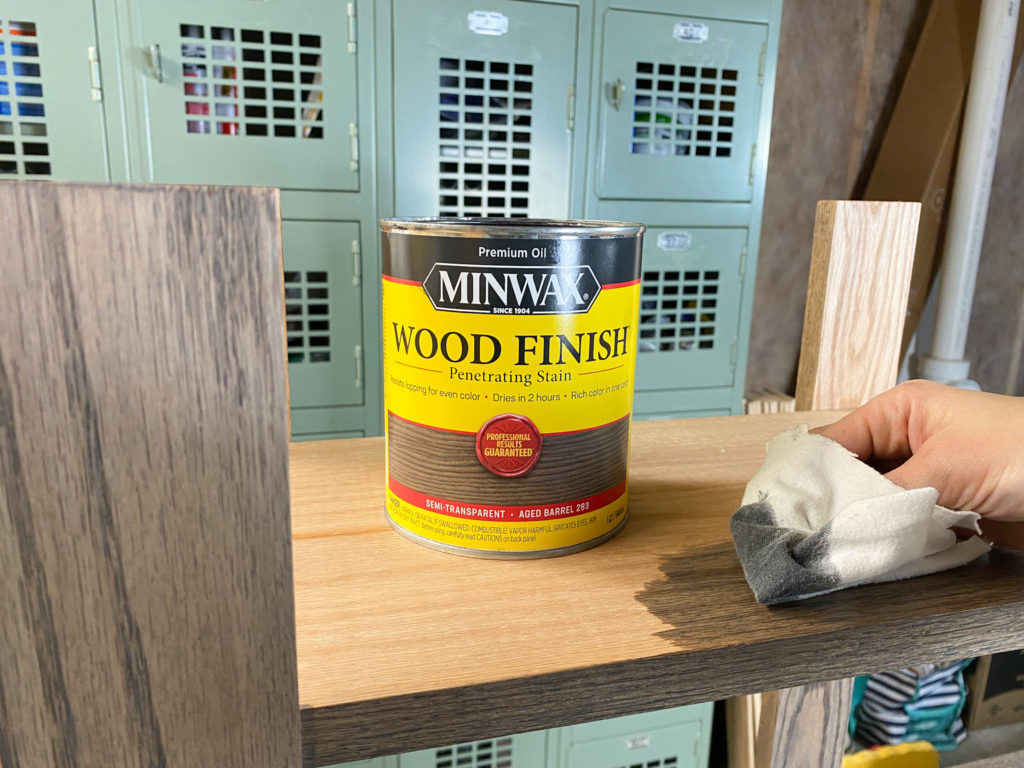 Simply apply the stain using a clean rag. After 5-15 minutes, remove any excess stain using a clean rag.
The longer you leave the stain on the wood, the darker the color will be. I wanted a lighter color so I removed the excess stain after 5 minutes.
I applied just one coat. You could apply a second coat if you decide that you want the color darker.
STEP 7: After 4 or more hours, apply Minwax Polycrylic Protective Finish in Matte Finish using a Purdy 2" XL Sprig Paintbrush.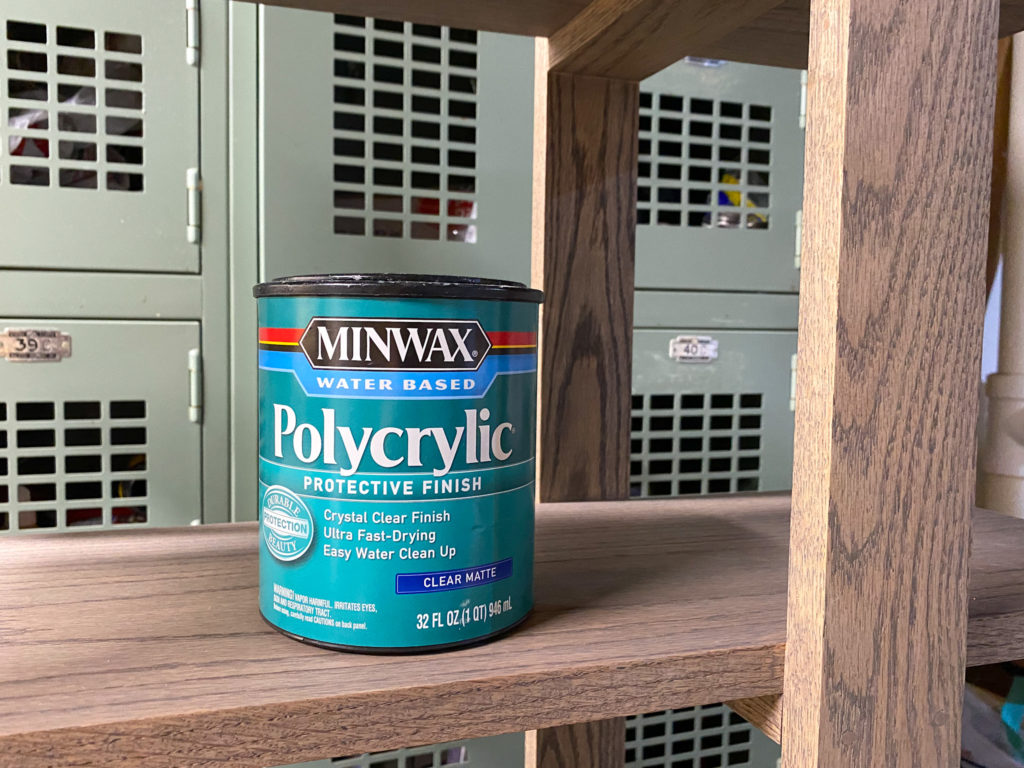 This third, and final, step in the staining process is applying a protective topcoat. I love to use Minwax Polycrylic Protective Finish in Matte Finish because it goes on clear, doesn't yellow over time, and has a beautiful subtle matte finish.
A synthetic brush is the best way to apply this so I used a Purdy 2" XL Sprig Paintbrush. I applied two coats, sanding with 220 grit sandpaper in between coats.
The Finished Modern Bookshelf in the Minwax 2023 Color of the Year: Aged Barrel!
As I was staining the bookshelf, I was second guessing if it would look good in my daughter's white, floral room. I was so pleasantly surprised when I put it in her room: It looks gorgeous!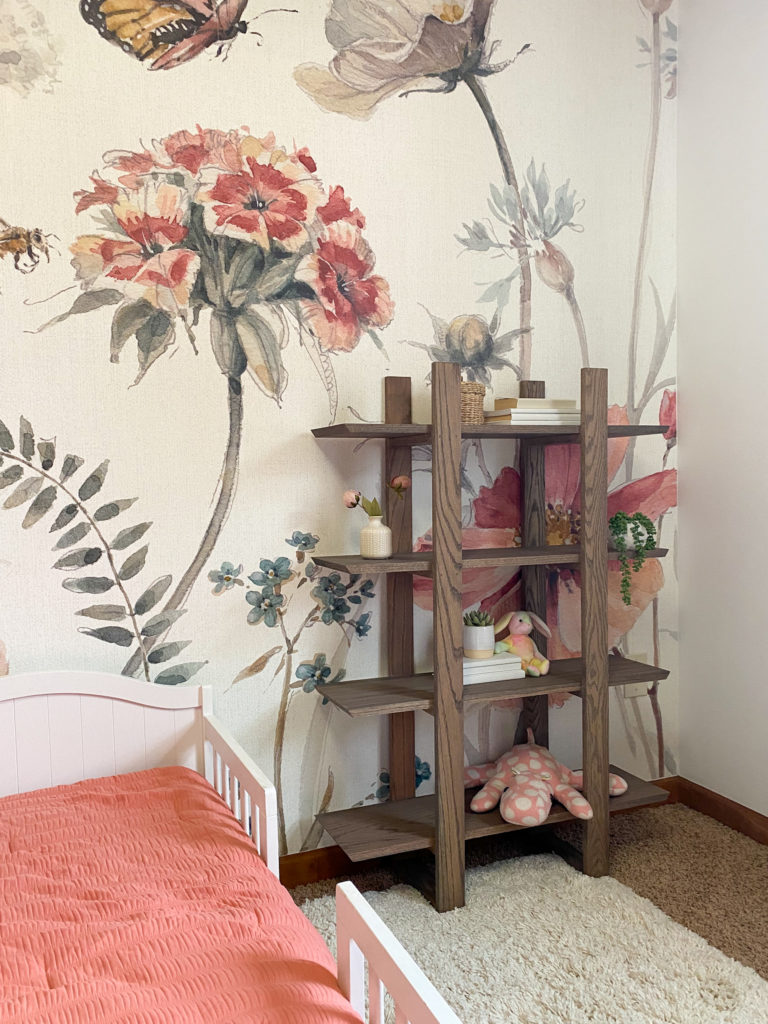 It ties in really nicely with the darker stems and leaves on a lot of the flowers on the floral wallpaper.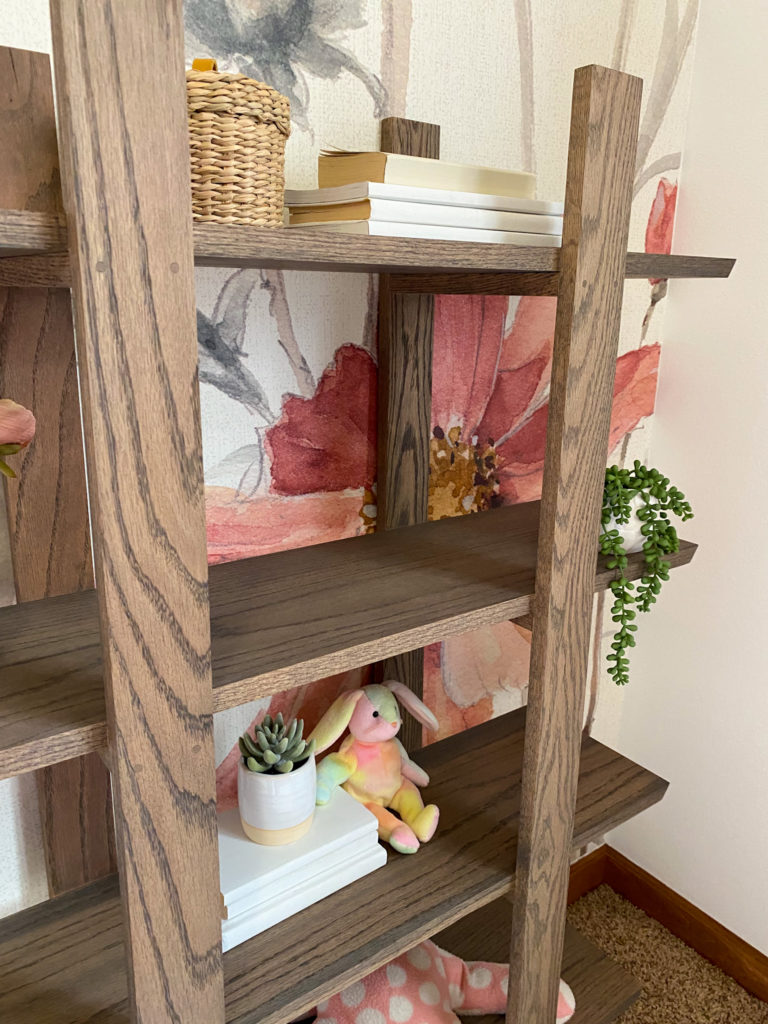 This gorgeous Aged Barrel stain color, warm brown with a strong gray undertone, fits in perfectly in this room. I love the contrast and depth it brings to the room!
Want to use stain in the Aged Barrel color on a different piece of furniture?
Here's how to make a beautiful end table for your living room.
Or make an entryway bench and stain it with Minwax Wood Finish in Aged Barrel!
Follow along with me on Instagram and Pinterest to see all my past projects and be in the know when my future projects happen!
Head to the Minwax website for more project ideas and to explore all their different amazing stain colors!