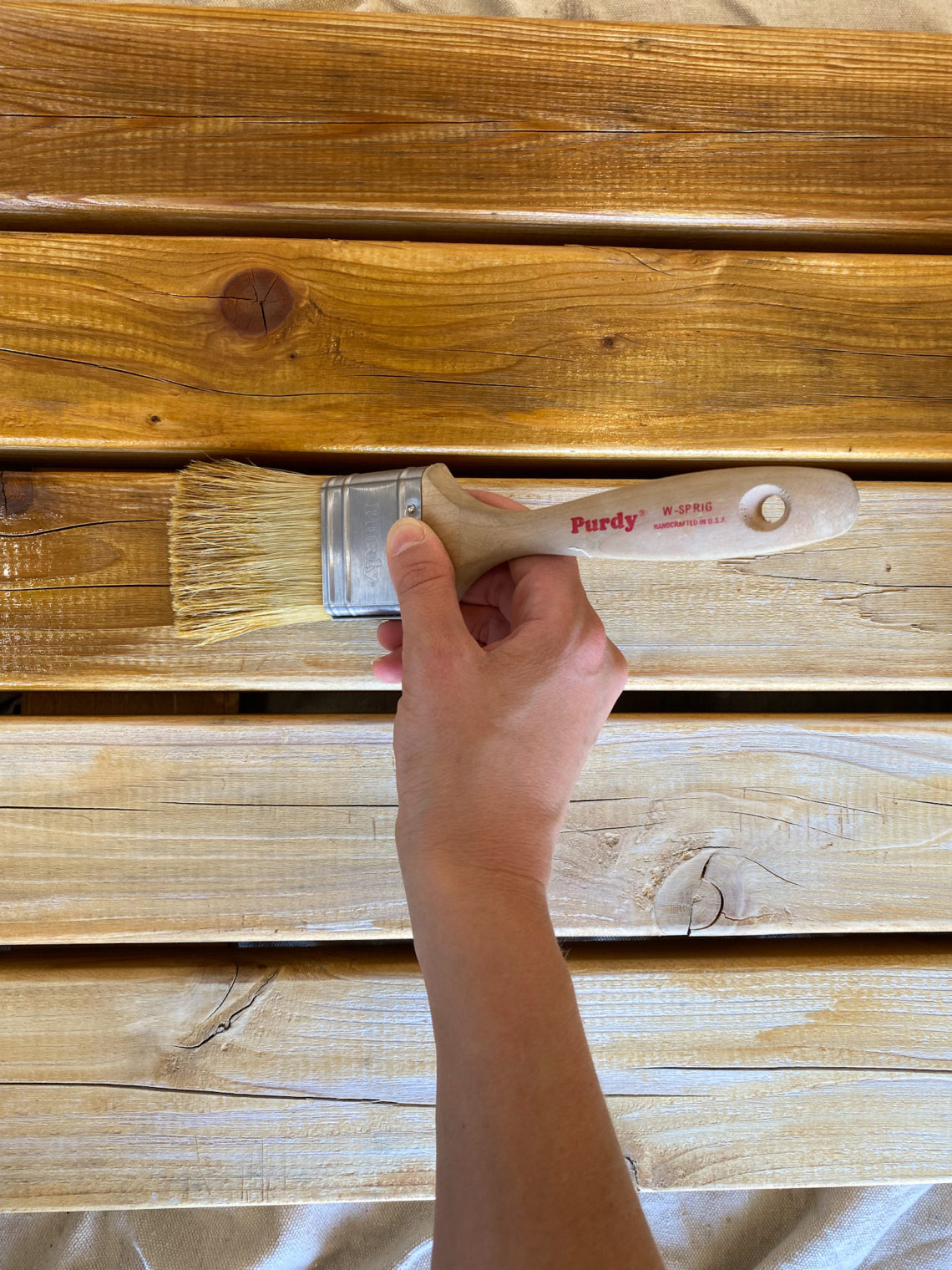 How to Apply Oil to Outdoor Furniture
Let's face it – sun, rain and snow can be hard on outdoor furniture! About 2 years ago I designed and built a bench with planters in it. At that time I applied Australian Timber Oil to the cedar boards. It's been sitting outside for two years now and it's in need of a fresh coat of oil. This is a really quick and easy fall fix-up project if you know how to apply oil to outdoor furniture – so let's jump into the tutorial!
Thanks to Purdy for sponsoring this post. I received compensation and free product but all opinions stated here are my own.This post contains affiliate links which means that I may receive compensation when you click on links. This is no extra cost to you.
Tools & Materials
Looking to purchase Purdy paint brushes and other products for an upcoming project? Head HERE to see which retailers near you carry Purdy products.
Time to Complete
Given dry times, this project takes about 4 days to complete.
Tutorial on How to Apply Oil to Outdoor Furniture
Step 1: Wash off your wood using Cabot® Ready-to-Use Problem Solver® Wood Cleaner.
Before you can apply the oil, you need to make sure that all dirt, mildew and other substances are removed from your wood. You can see in the below picture how dull and dirty my bench had become.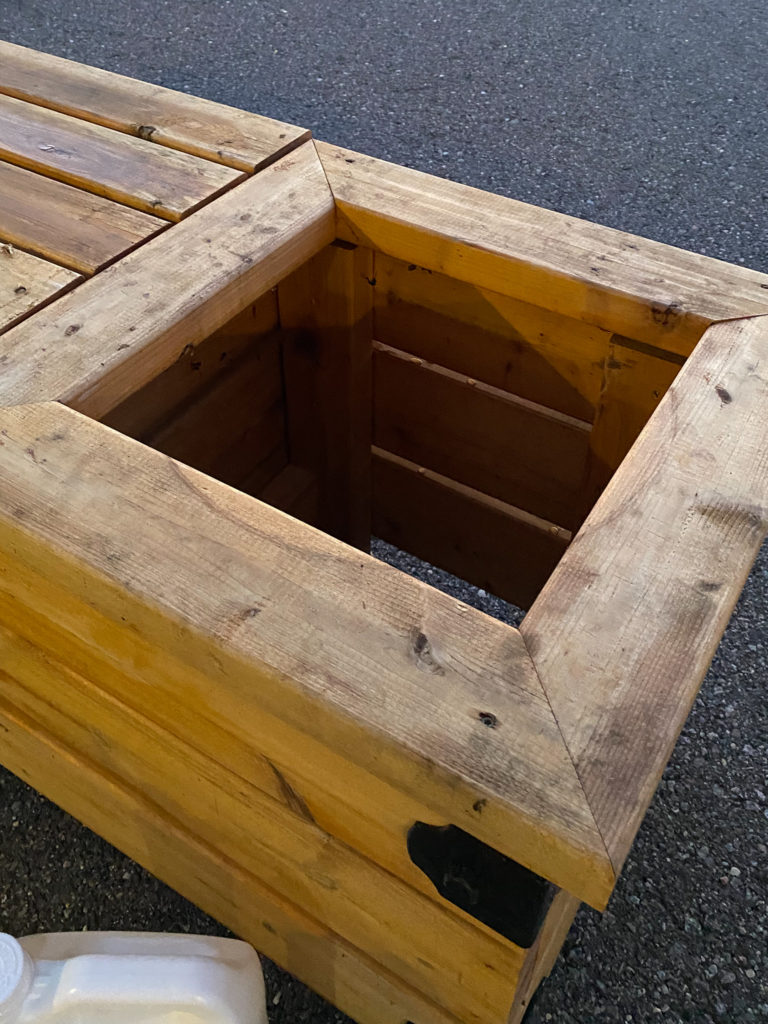 Cabot has a great product, their Ready-to-Use Wood Cleaner, that is perfect for removing dirt and mildew from wood.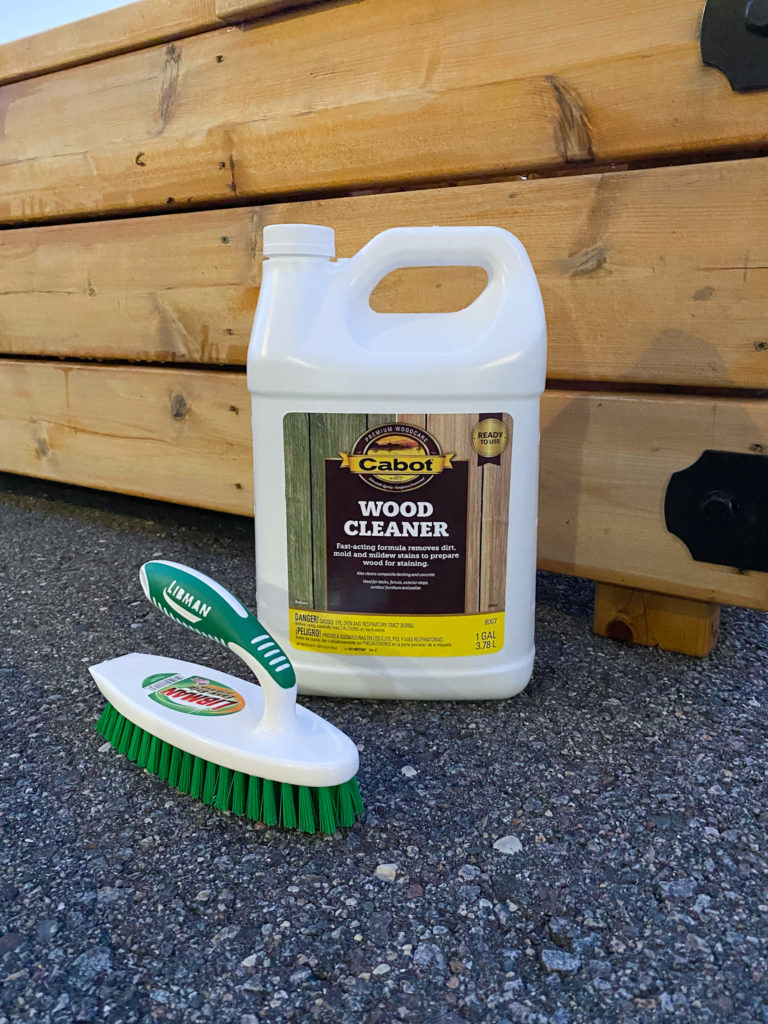 You brush on the product and let it sit for 15-20 mins. Then you spray it off with a garden hose on the highest pressure setting or with a pressure washer. Be careful when you are doing this on soft wood, like cedar. You will want to make sure not to damage your wood during this process.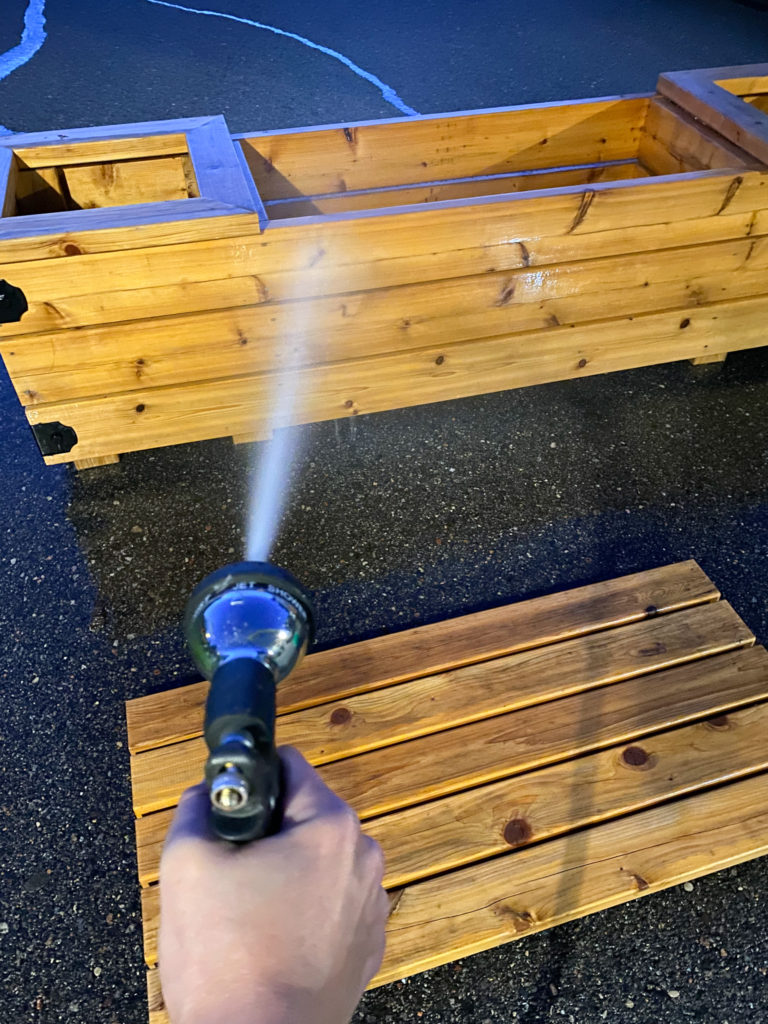 Once clean, let the wood dry out for 24-48 hours. You want to make sure that there is no moisture in your wood when you are applying the oil or it will not penetrate well.
Step 2: Apply Cabot Australian Timber Oil using a Purdy White Bristle brush.
Cabot Australian Timber Oil is a combination of three high quality oils: linseed oil, tung oil and long-oil alkyds. This product helps bring out the beauty in wood, accentuating its texture and grain. It also helps with water repellency and is durable over time. You should apply it every few years to keep your outdoor furniture or deck looking great!
I chose to use a Purdy White Bristle brush to apply the oil since this type of brush is perfect for oil-based paints, stains and clears. It also leaves a nice smooth finish. Furthermore, Purdy brushes are incredibly high quality! Save yourself the trouble of lost bristles and poor finishes by investing in high quality brushes from Purdy.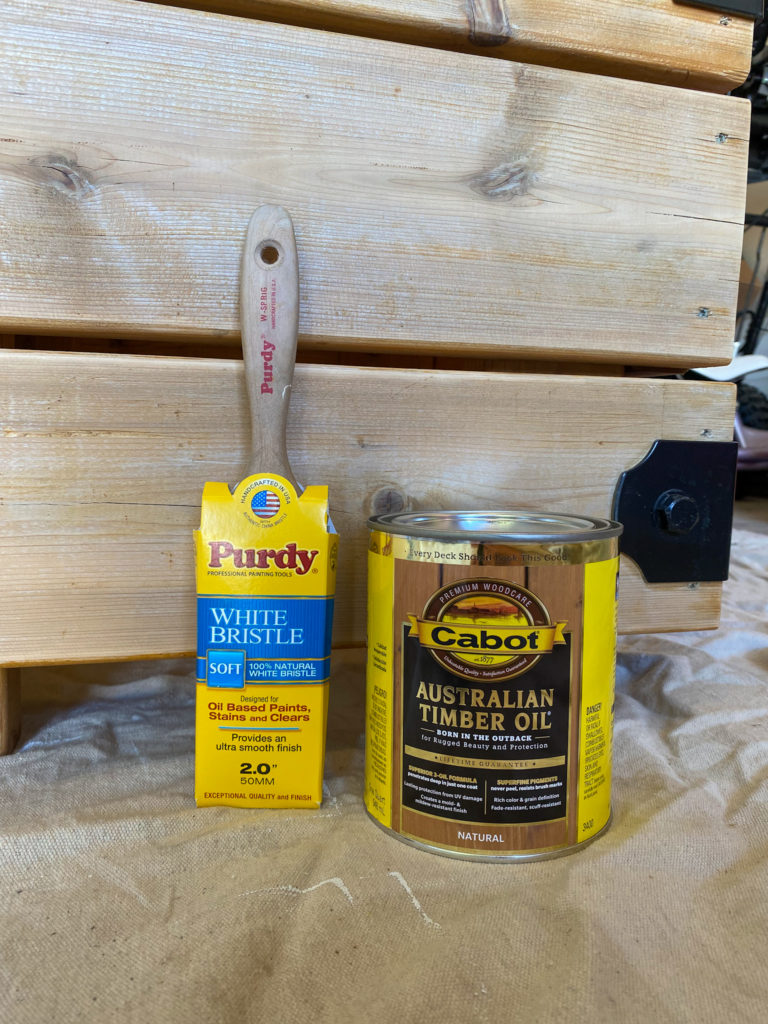 I applied it to the bench, making sure to not to over apply, which would result in a glossy finish. I pulled the bench into my garage to apply the oil since you should avoid applying the oil in the direct sunlight.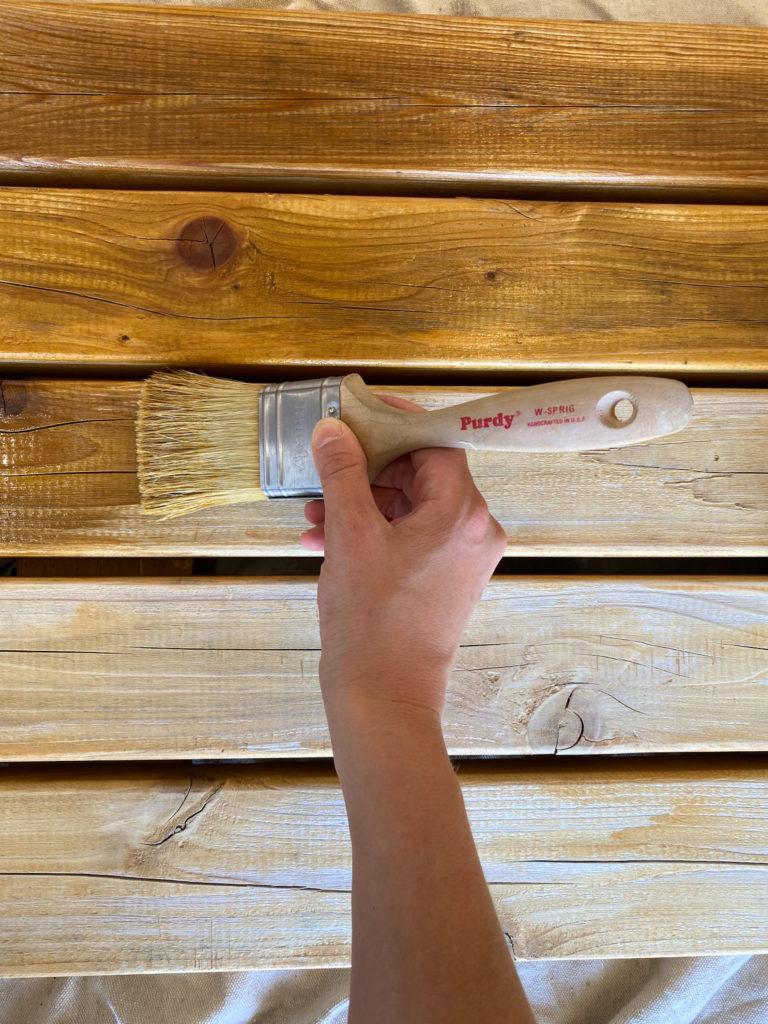 I then let it dry for 24 hours before touching it. Only one coat of this oil is needed.
Step 3: Wash out your brush using mineral spirits
Since the Australian Timber Oil is oil-based, I needed to use mineral spirits to clean off the brush. Once the brush was completely clean, I let it dry before storing it in its keeper.
The Completely Refreshed Bench with Planters!
Wow, it looks SO much better than it did before! The sun, rain and snow had dried out the wood a bit over time but this oil brought it back to life again, along with giving it protection from the outdoor elements.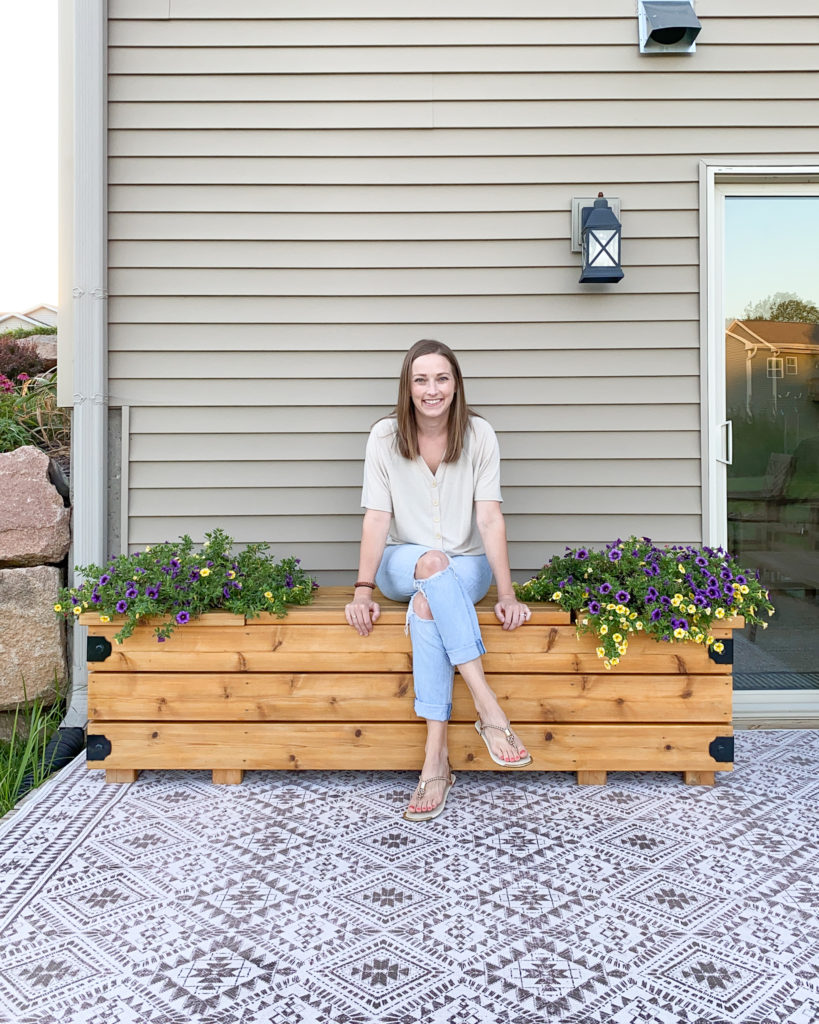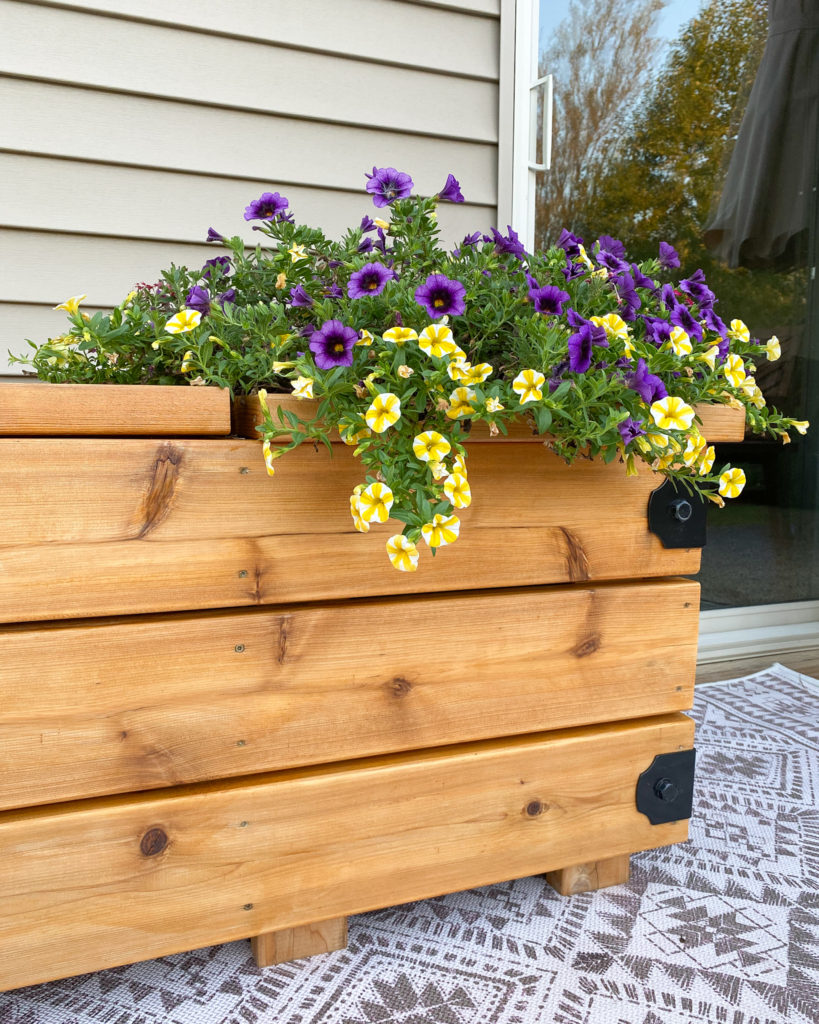 This close-up picture shows you how perfectly the oil was applied thanks to the Purdy White Bristle brush!
What fall fix-up projects are you working on these days? I'd love to hear all about them!
Looking for More Home DIY Project Ideas?
Head here to learn how to paint outdoor furniture.
Head here to browse all my recent projects.
Sign up here for emails from me so you always see the latest and greatest home DIY projects!
Or head to Instagram to browse through all my recent projects and follow me to keep seeing more!