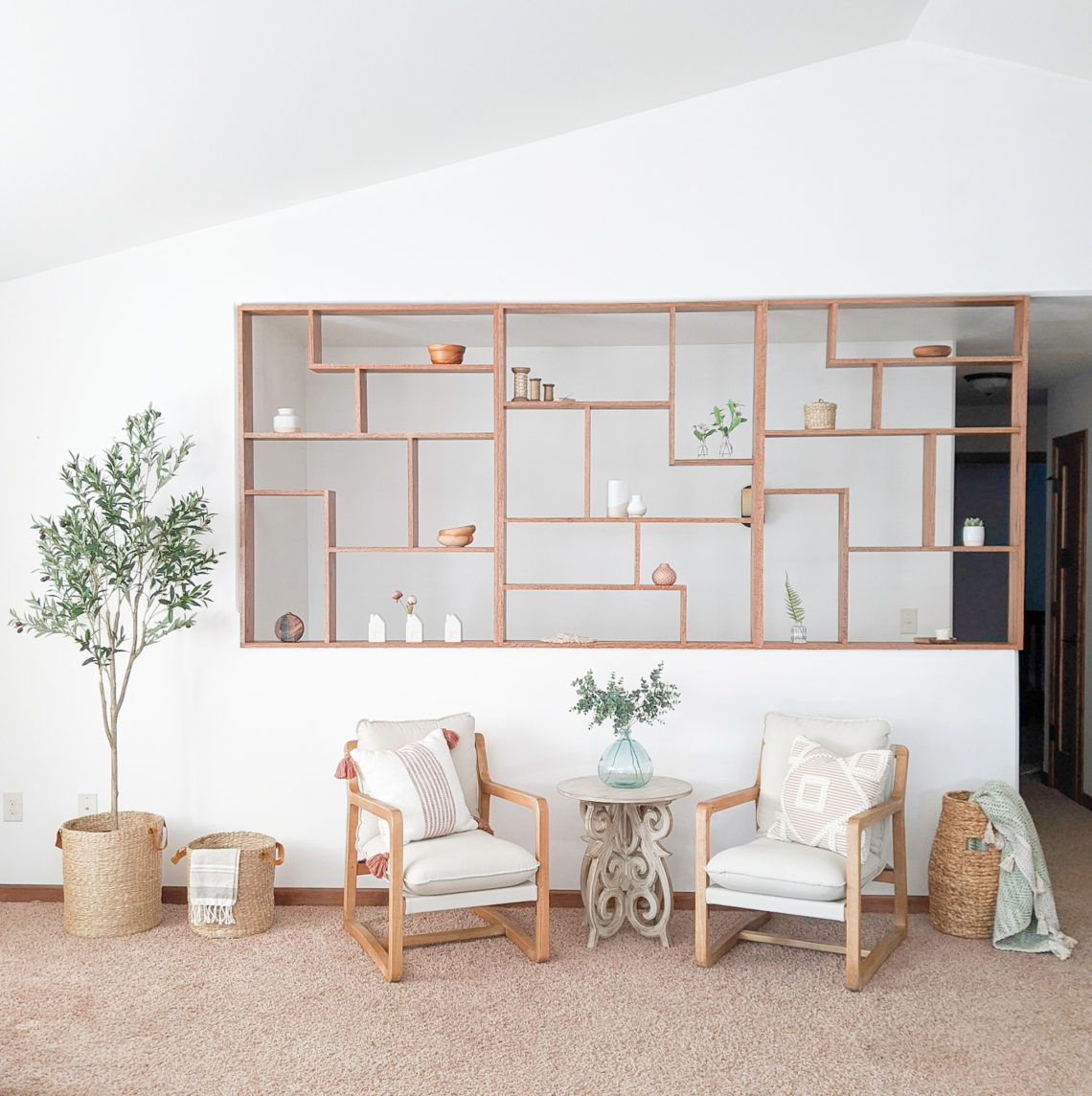 One Room Challenge Final Reveal: Light & Bright Living Room!
It's reveal time! After 8 weeks of crazy work and crazy excitement, I'm thrilled to be sharing with you the final reveal of my living room. For the past 8 weeks, I have been a guest participants in the One Room Challenge hosted by Better Homes & Gardens and The One Room Challenge. I loved being part of this and I hope you enjoyed following along on the transformation.
I took a living room that was uncomfortable, average and not at all functional and turned it into a functional, relaxing and beautiful space. I used a combination of DIY projects and purchased items to fill the room. I'll walk you through the room, highlighting the key elements.
Pony Wall Shelving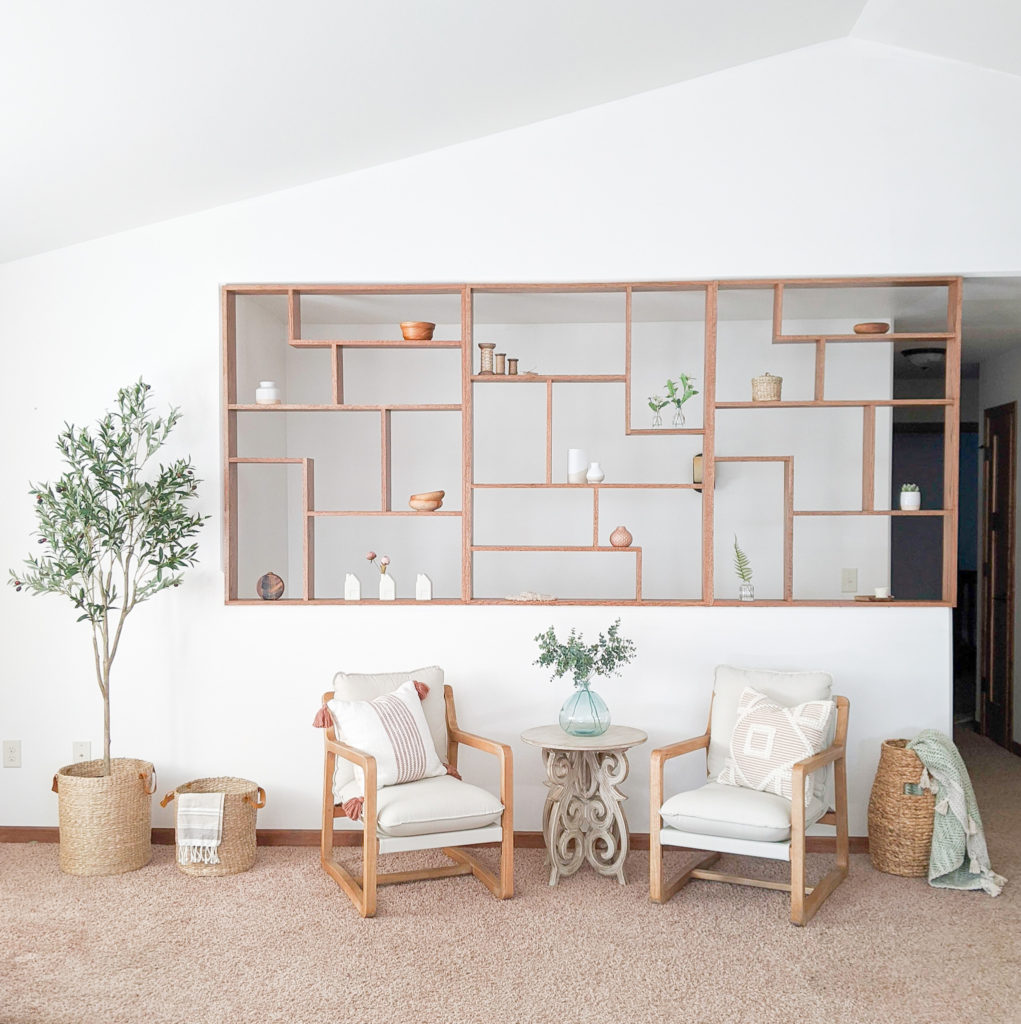 I built and installed this shelving to go above our half wall. Rather than being unhappy with a half wall without a clear function, I saw it as an opportunity to create something unique in this room. This focal point helps the room look more custom and creates a natural focal point.
This is where we started from: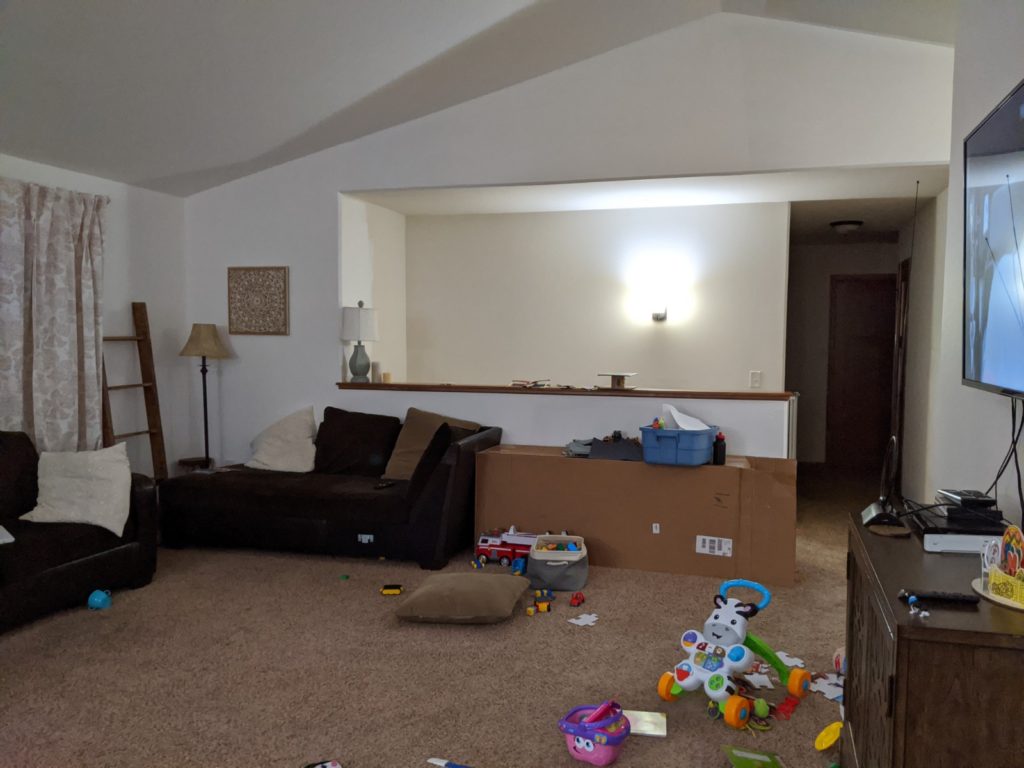 I know, it's so pretty, right?! 😉 Not only did I build the shelving but I also painted the entire room white and removed the cardboard box and old sectional. If you want to know more about how I managed to paint vaulted ceilings, head here for a review of three tools that make this possible.
The pony wall shelving went up in three sections simply because it was unmanagable to make in one piece.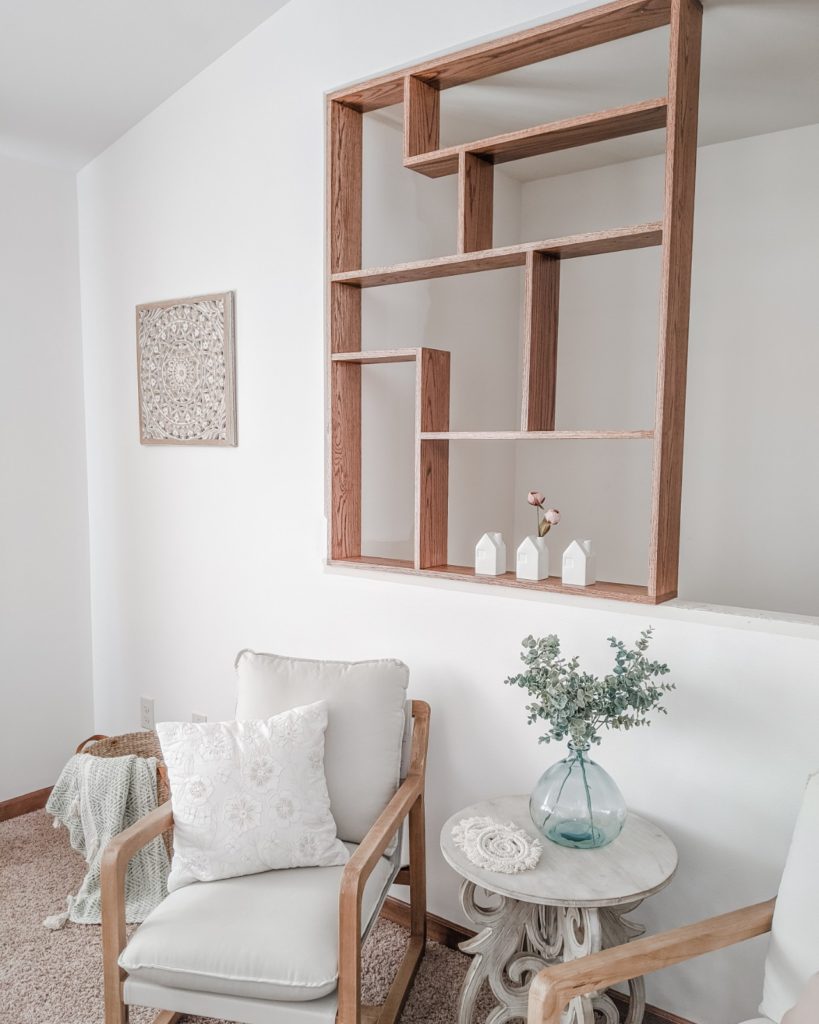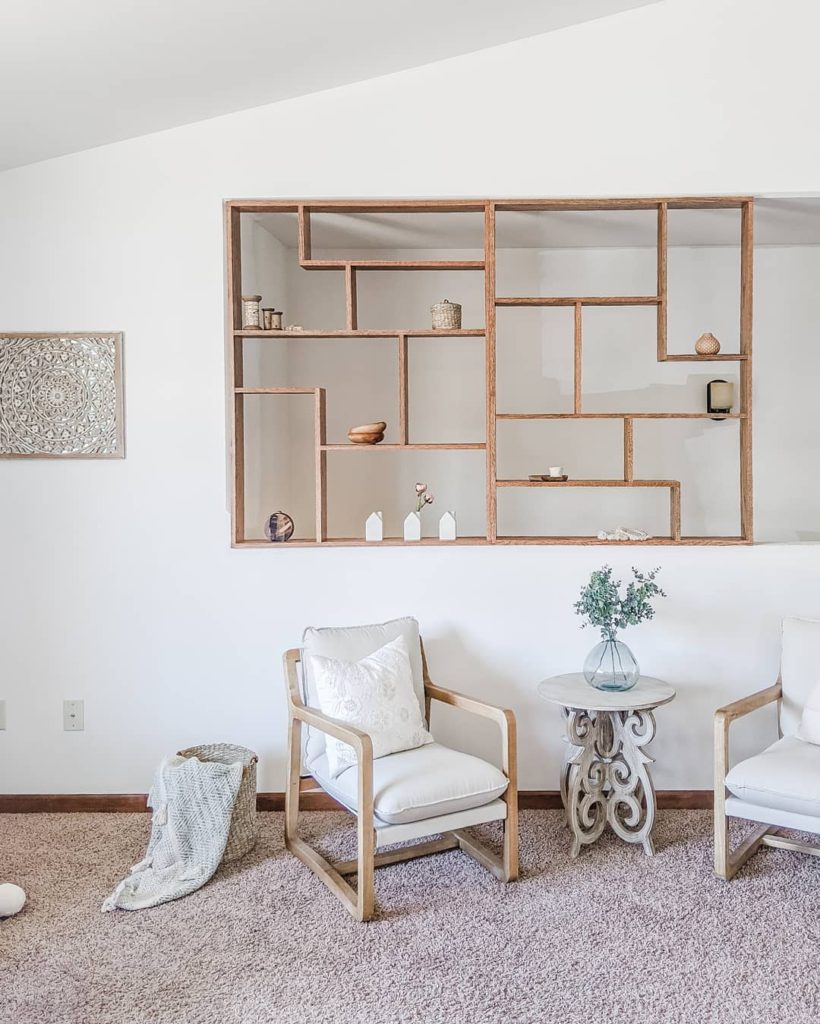 I made all three sections using the same design but flipped over and inverted the middle section to vary the overall design. The shelves are made from oak wood finished in 3 steps: Minwax Pre-Stain Wood Conditioner, Minwax Special Walnut Stain and Minwax Polycyrlic Protective Finish. I installed them with 2 1/2 inch screws into the studs of the wall and ceiling.
An Upcycled Coffee Table
Another one of the main features of the room is an upcycled coffee table. I took a coffee table that we have had for years and painted it with chalk paint to give it an updated look.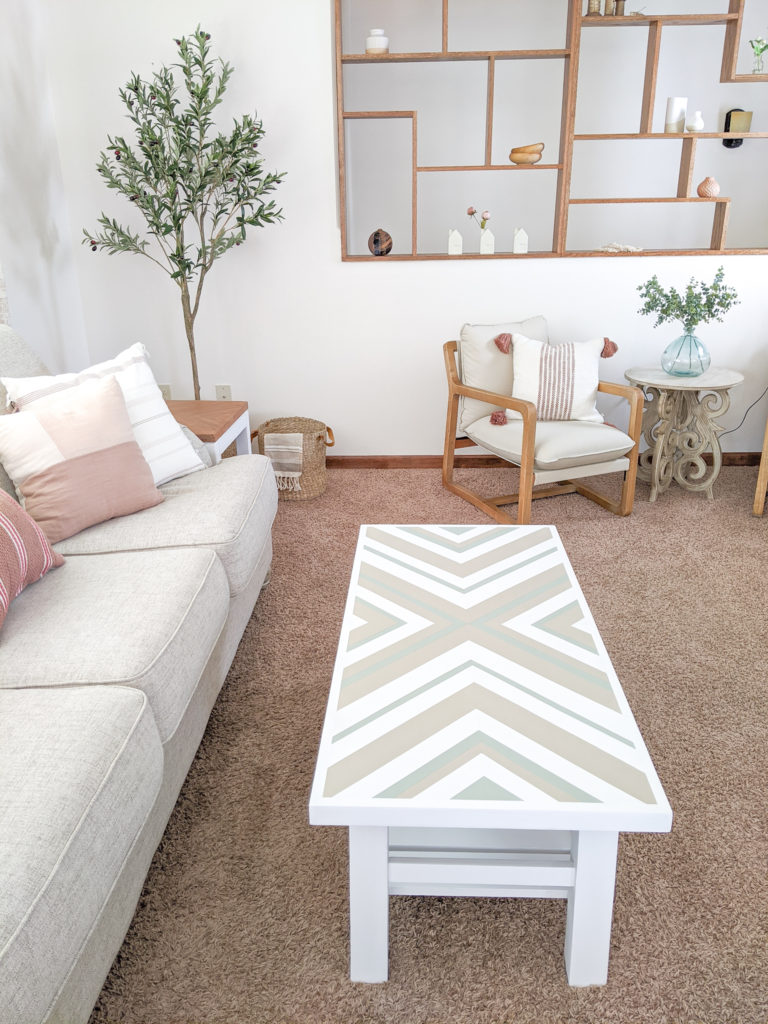 I created the unique design on the top using three different colors of chalk paint and an entire roll of FrogTape! I will be the first to tell you that all painter's tape is not created equal, meaning that some of it does not work very well but FrogTape is amazing! I highly recommend it for detailed projects like this one.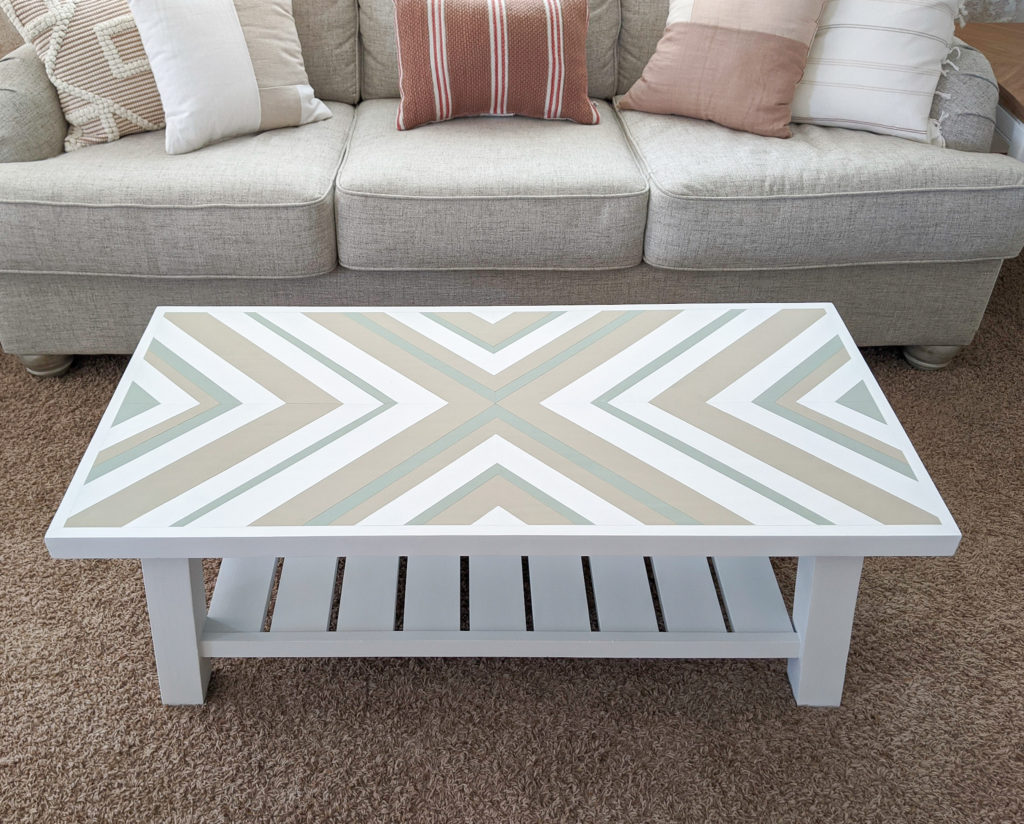 I put Minwax Polycyrlic Protective Finish on top of the chalk paint to protect it.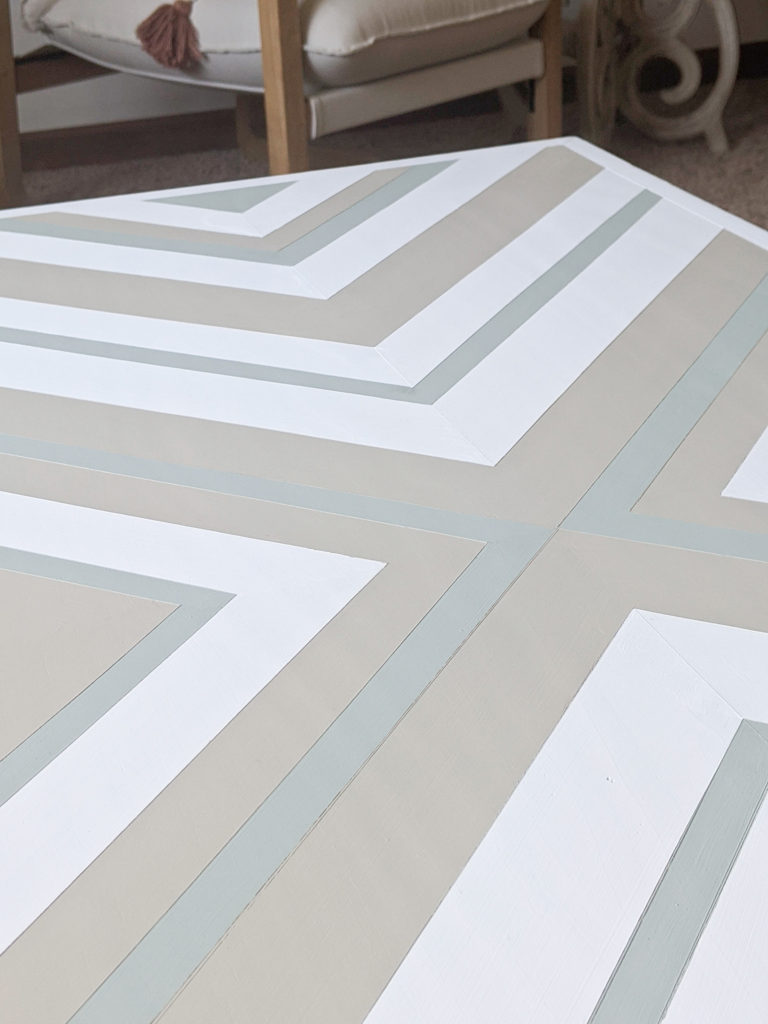 I like how the coffee table adds another interesting design element to the room.
An Upcycled End Table
I found this end table for $6.99 at Goodwill. I knew it had so much potential!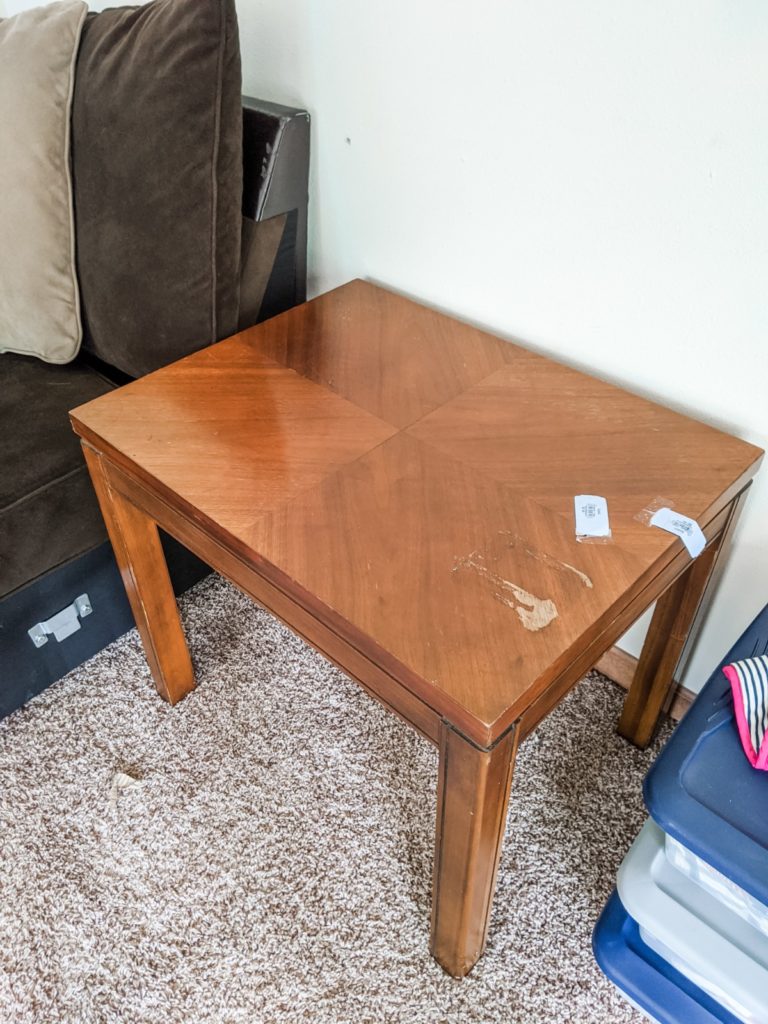 I sanded down the top, painted the legs with white chalk paint and finished off the bare wood top with Minwax Natural Paste Finishing Wax. The wax helped preserve the bare wood look and feel of the top.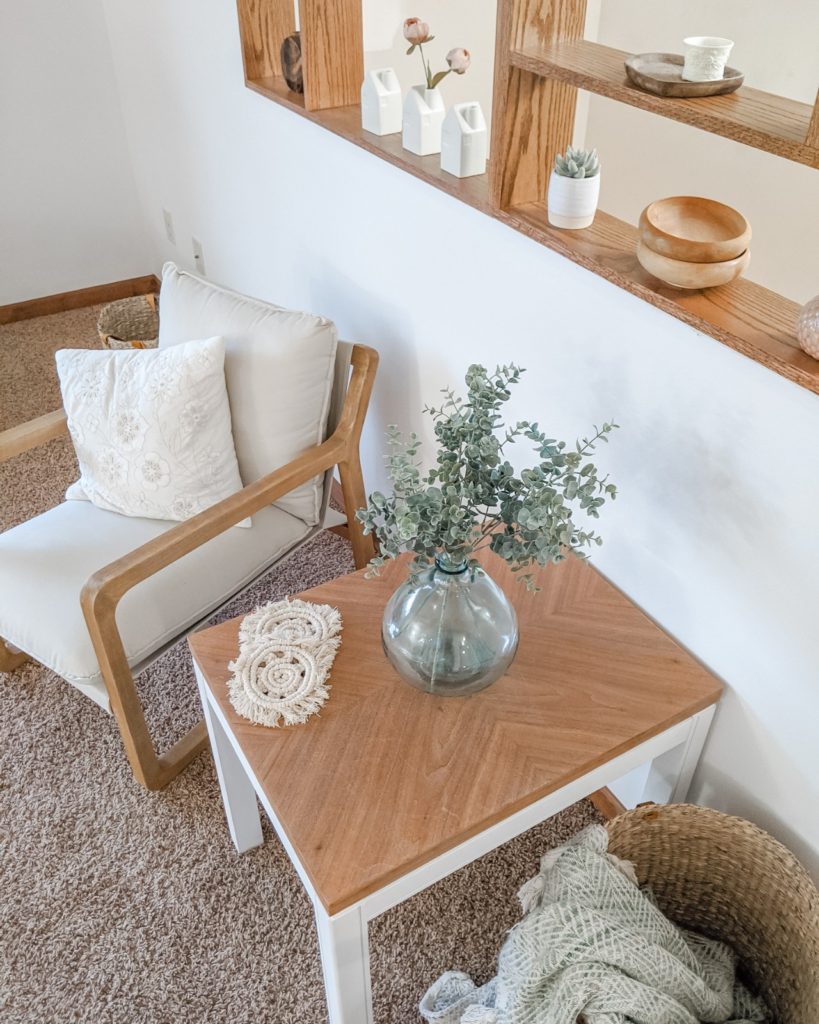 The Sofa & Accent Chairs
Given the global pandemic at this time, it was challenging to find, try out, order and get new furniture on time. Fortunately, I was able to find a beautiful sofa and two accent chairs.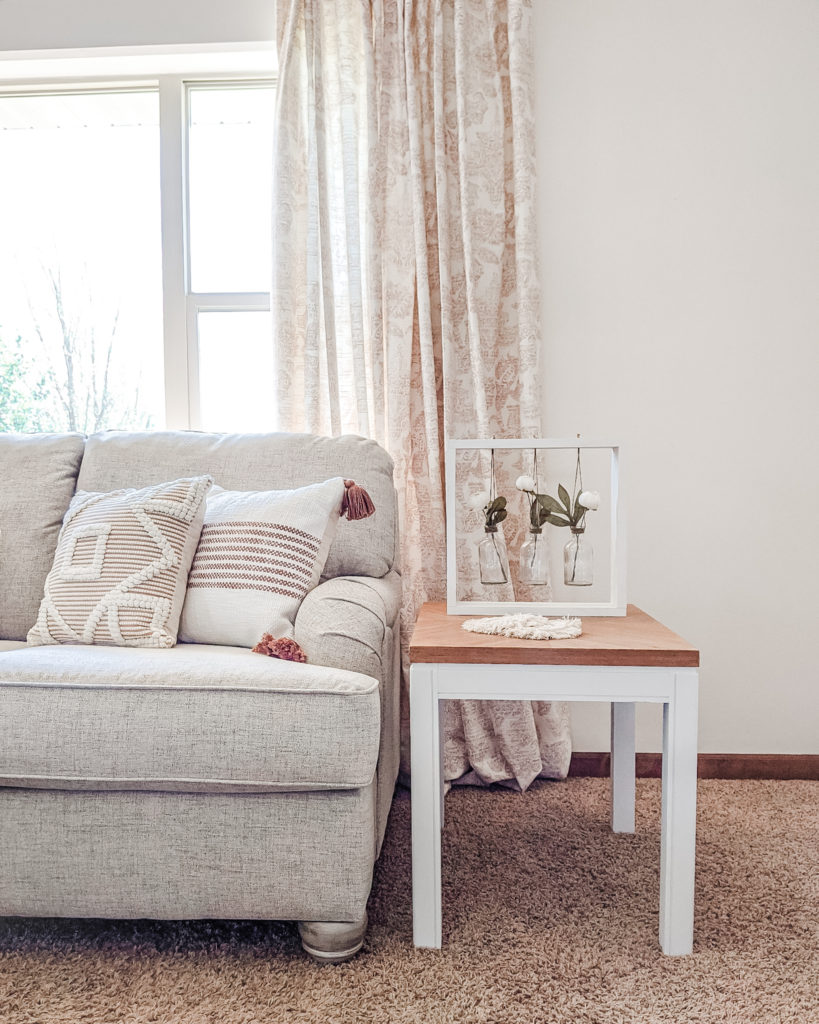 The sofa I chose is the Avery Sofa from Hom Furniture. I highly recommend it as a neutral couch for your home. It's firm yet comfortable. It has a great texture to the fabric. My favorite parts are the unique arms and legs. It is about a million times better than our stained, falling apart brown sectional.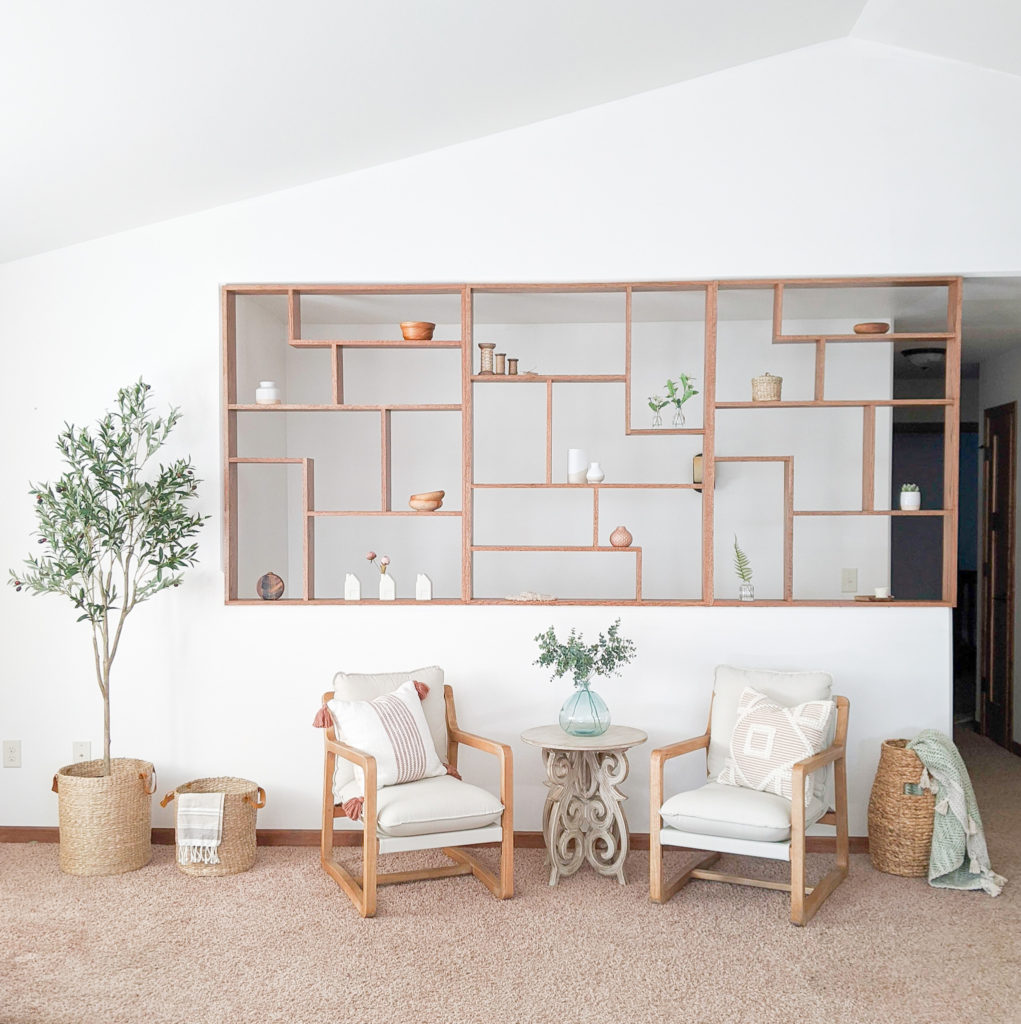 The two accent chairs are sling chairs from the Project 62 line at Target. They are extremely comfortable although you might not guess that based on how they look!
I already had a giant egg chair from Target that I kept in the room for additional seating.
The Finishing Touches
In order to finish off the room, I added some baskets, greenery, throw pillows and a lot of knick-knacks. The knick-knacks on the pony wall shelves are mostly from Goodwill and Target.
One set of vases I purchased at Goodwill for $0.99 each and upcycled them.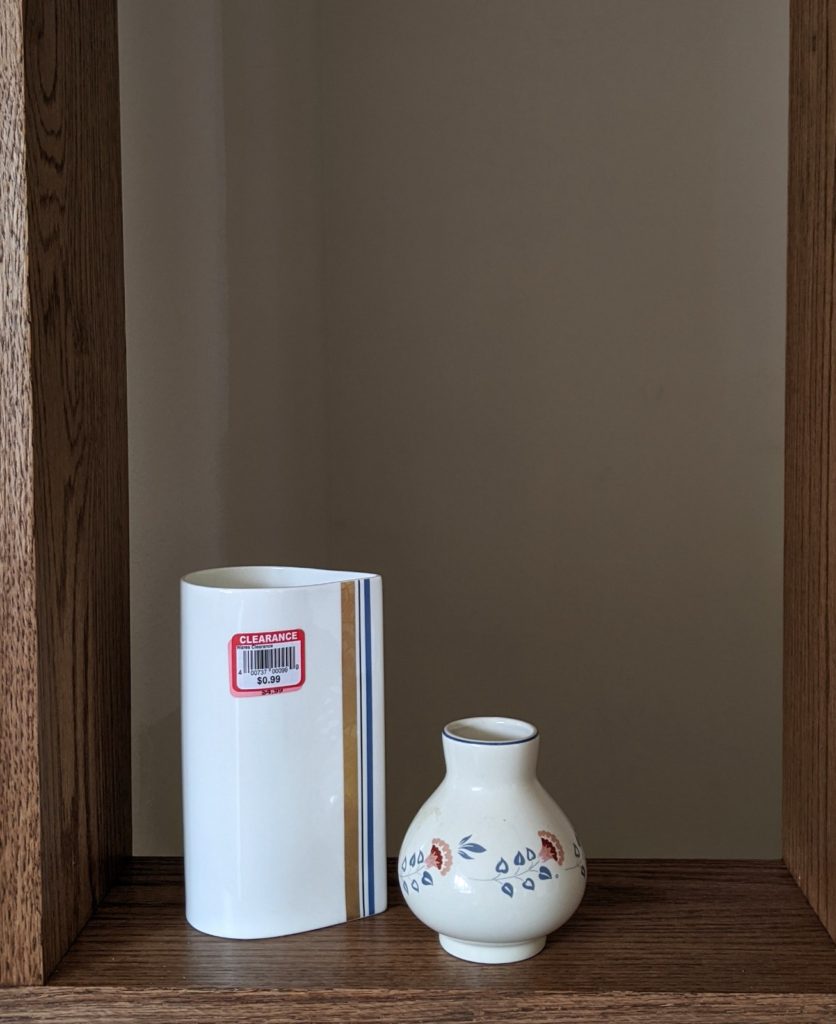 I upcycled them by simply washing them and painting them with chalk paint. It's an incredibly easy and inexpensive way to add decor to your home!
Wrapping It All Up
Are you thinking "Hey! What happened to the TV wall and TV stand?" Well, folks, you know when something really exciting happens and then it's over and you feel sad it's over? Well, I didn't want you to feel sad about this being over so I left a little something for you to look forward to – the TV stand and wall reveal! : ) Stay tuned for more on that!
I wanted to take a moment and comment on this wonderful experience. The One Room Challenge participants that I met were kind and encouraging. They were inclusive and helpful. I am so glad to have been part of such an amazing community.
Until next time, don't forget to check out all the other amazing accounts that participated in this challenge. Head here to see them all!